Casual Male CEO sees sales improving
By Alexandria Sage
NEW YORK (Reuters) - The chief of Casual Male Retail Group Inc , which makes clothing for larger men, said on Tuesday he believed same-store sales will turn positive once consumer traffic in the weak economy improved.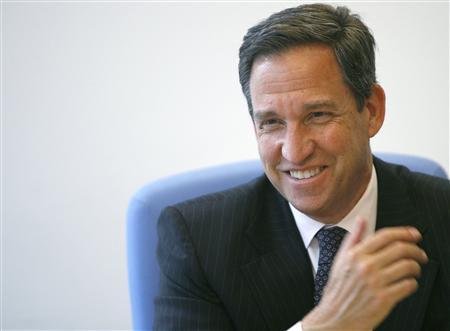 Chief Executive David Levin also told the Reuters Consumer and Retail Summit he was happy with sales in advance of the recent Father's Day holiday.
"We got through Fathers' Day, and I'm still standing. That's a hurdle we have to get through," he said. "We were pleased with Fathers' Day."
The company, which operates the Casual Male XL and Rochester Big and Tall Stores as well as a catalog and e-commerce business, posted a same-store sales decline of 2 percent in the first quarter and a decline of 0.3 percent in the fourth quarter of fiscal 2007 amid an ongoing slump in traffic.
That "makes us feel comfortable that once we head out of this (weak economy) we should be producing positive comps with flat traffic," Levin said.
Same-store, or comp sales, measure sales at stores open at least a year and are a key gauge of retail performance.
"We've been running relatively flat now. It hasn't gotten worse for us. It hasn't gotten better," Levin said.
"We're not in a meltdown or hemorrhaging-type situation. We've just seen a slowup of traffic that we can manage our way through," Levin said.
The company's inventory will be some $10 to $15 million lower at the end of this year versus last year, he said.
Casual Male is trying to increase its share of the roughly $6 billion market for big and tall men to 12 percent from the existing 7.7 percent by focusing on younger customers with 42-inch and 44-inch waists.
Moreover, the company will announce a strategy for teens in July or August, he said, adding it was too early for the company to begin opening stores dedicated exclusively to teens.
"There's not enough critical mass to put a store in a mall, he said. "I think it's going to happen, we're just not there right now."
SHELLING OUT MORE FOR SHOES
Asked about inflationary pressures, Levin said he sees shoe retail prices increasing next spring, but not in 2008. Shoes make up approximately 5 percent of the company's sales, with a goal of 10 percent in the next several years.
The company recently rolled out a website dedicated exclusively to shoes.
Internationally, the company is launching Casual Male XL and Rochester Internet businesses in six European countries in August. Opening retail stores, which is further down the road, would occur through a joint venture, Levin said, adding that he predicted strong opportunities once Europeans became aware of the brand.
"There's nothing like us anywhere else outside the United States. It's still a mom and pop operation," Levin said. "We think once they discover us, we're going to do extremely well."
(For summit blog: summitnotebook.reuters.com/)
(See here for SHOP TALK -- Reuters' retail and consumer blog)
(Reporting by Alexandria Sage, editing by Phil Berlowitz)
© Thomson Reuters 2023 All rights reserved.