Florence cashes in on "pre-season" fashion wave
By Deepa Babington
FLORENCE, Italy (Reuters) - Florence, where Italy's fashion industry got its start more than 50 years ago, is carving a new niche for itself by exploiting booming demand for pre-season collections.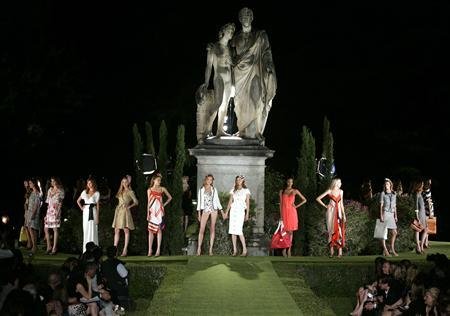 The Renaissance city gave birth to fashion dynasties Gucci, Ferragamo and Pucci and was the home of Italian fashion until the mid-1970s, when designers like Armani and Versace began showing their collections in Milan, closer to their factories. It has since focused on childrens wear and menswear shows that have attracted buyers from around the world.
But Florence has recently begun hosting twice-yearly womenswear "pre-collection" shows that precede the standard spring/summer and fall/winter shows.
The new trend is driven partly by clothing retailers such as Zara and H&M, which frequently update the merchandise in their stores and change their window displays every few weeks, said Raffaello Napoleone, CEO of Pitti Imagine, which organizes Florence's fashion weeks. That means other retailers cannot afford to stock their windows with the same pieces for months on end.
"The only way to stimulate the consumer is to offer different things. This approach has pushed the manufacturer to think of selling earlier than in the past," Napoleone told Reuters. "Due to globalization, due to the consumer's approach, you have to be very fast to offer opportunities to retailers."
In January, Pitti became the first company to hold a major trade show devoted entirely to pre-season collections. About 6,500 buyers and visitors, including those from large department stores, attended to watch 39 such collections, he said.
This week, Pitti is hosting W_Woman Precollection's second edition, with 65 designers showing their 2009 pre-spring/summer creations. New York-based designer Diane von Furstenberg kicked off the event with her 2009 pre-spring/cruise wear collection.
"In the future we are sure that all companies will start presenting collections four times a year," Napoleone says.
CRUISING ALONG
Pitti focuses on the smaller fashion houses with annual sales of between 5 million and 30 million euros who need trade show exposure, as many bigger names show off their pre-season ware to buyers privately in their offices or showrooms.
Even so, some of fashion's biggest brands are joining the trend of putting out more than two major collections a year by throwing lavish, celebrity-studded outings to showcase their "Cruise" or "Resort" wear.
Apart from being popular for displaying clothes that cut across seasonal lines, these collections are also considered a lucrative sideshow that can help weather the economic slowdown.
Christian Dior staged its resort show in New York's Guastavino's restaurant, Chanel showed off its cruise wear -- which hits stores in November -- in Miami Beach, while Gucci plans a bash in Rome next month to unveil its cruise collection.
Von Furstenberg's Florence gala to launch her travel wear collection this week was no less decadent, attracting Florentine nobility and stars like Eva Longoria and husband Tony Parker, who enjoyed a moonlit garden picnic afterwards.
(Editing by Catherine Evans)
© Thomson Reuters 2023 All rights reserved.