Retailers say impending holiday gloom overdone
By Nicole Maestri - Analysis
NEW YORK (Reuters) - U.S. consumer spending may have slowed, but the gloom already being cast over the impending holidays is overdone, retailers and clothing makers ranging from Best Buy Co Inc to Toys "R" Us to Perry Ellis International Inc said this week.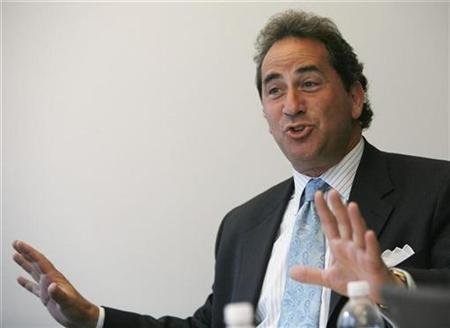 Best Buy is planning for better business this holiday season, a crucial period that can account for 25 to 40 percent of retailers' annual revenue, a company executive said at the Reuters Consumer and Retail Summit this week.
The CEO of Toys "R" Us said he does not believe parents will cut back on Christmas spending for their children, while Perry Ellis executives are more optimistic than the media suggest.
"The situation with the consumer in general is not as bad as sometimes you hear it in the news," said Francisco Gonzalez-Meza Hoffmann, vice president of strategic initiatives at Perry Ellis International.
Instead of focusing on what they cannot control -- a crumbling housing market, tighter credit and soaring fuel prices -- retailers are working on what they can control -- inventory.
"With less stock, and just a natural cycle of consumer (spending), I think the back half of the year is going to be OK," said Wesley Card, chief executive of Jones Apparel Group Inc , whose brands include Jones New York, Anne Klein, Nine West and Easy Spirit.
SPENDING THOSE TAX REBATES
From February through May, the average monthly sales increase for U.S. retail chains at stores open at least a year was 2 percent, below the 2.1 percent advance last year, according to the International Council of Shopping Centers.
Excluding Wal-Mart Stores Inc , which has outperformed its rivals, same-store sales are up just 0.9 percent -- far below the 2.6 percent average gain in the year-ago period.
But the industry got a glimmer of hope last week when the U.S. Commerce Department said May retail sales rose 1 percent, much higher than expected, as U.S. government tax rebate checks reached consumers.
"People were spending, it appears, some of these tax rebate checks on product," said Michael Todman, president for Whirlpool North America WHR.N. The region is Whirlpool's largest market, accounting for more than 60 percent of sales.
Warmer weather also spurred demand.
"Seasonal items are starting to sell very well," said Card of Jones Apparel, pointing to sales of brightly colored sandals. "We saw a definitive pick up as the weather turned."
PICKY SHOPPERS
However, tighter access to credit in the wake of the housing downturn has curbed discretionary spending, Whirlpool's Todman said.
Shoppers "would rather buy one good piece and then build around it," noted Christine Day, CEO-designate of yoga wear retailer Lululemon Athletica Inc .
Women are sprucing up their existing wardrobe with new handbags or trendy shoes, Jones Apparel's Card added. "Instead of spending $300 for a new ensemble of sportswear, you can update something you have got with shoes and bags."
Manufacturers are making fewer products as retailers respond to the weaker environment by cutting back orders, hoping to avoid unplanned holiday promotions to clear unsold merchandise.
Day said Lululemon is ordering its "first wave" of holiday products but holding off on the second wave until it sees how sales trends develop. While it may have to resort to costly air shipping to stock its stores if demand outstrips supply, it would rather face that than have heaps of unsold clothes.
Card said that in some cases, like with its Nine West sportswear line, Jones has told its retail customers to book only 80 percent of what they would normally order.
"Together with them we will chase the remaining 20 percent," to allow retailers to supplement their offerings with the latest trends, he said.
A NAIL-BITER
Despite inventory cutbacks, retailers may have no choice but to institute unplanned promotions if struggling competitors slash prices to drum up sales.
Already, the tough environment has sent some retailers, like Linens 'n Things and Sharper Image to bankruptcy court, while others have slowed growth plans and closed stores.
"Typically, during Christmas, there are not very many store closings, going out of business, because people will say, 'Gee, I could just get through Christmas .... I'll be OK'," said Jim Schaye, CEO of Hudson Capital Partners, which buys, and then sells, the assets of retailers that are going out of business or closing stores.
But Christmas can be sobering for struggling retailers if those much-anticipated holiday sales fail to materialize.
"All of a sudden on ... December 25th, I'm sitting there with the phone ringing off the hook," Schaye said. "The meltdowns are so fast, it's amazing."
(For summit blog: summitnotebook.reuters.com/)
(See here for SHOP TALK -- Reuters' retail and consumer blog)
(Editing by Richard Chang)
(For more on the Reuters Consumer and Retail Summit, see ID:nN16470337
© Thomson Reuters 2023 All rights reserved.