Trying to hide price hikes with trends, fabrics
By Nicole Maestri - Analysis
NEW YORK (Reuters) - How do manufacturers or retailers mask a price increase these days? They bury it amid talk of high-tech fabrics, better quality clothes or the latest hot brand or product.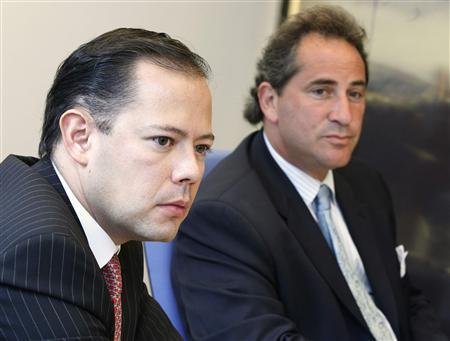 Executives attending the Reuters Consumer and Retail Summit in New York this week said the surging costs of doing business have become too high to swallow, and they have already begun passing along price increases to their shoppers.
But to make those higher prices less evident, executives are marking up prices more than usual on newly introduced merchandise, hoping a product's trendiness or new fabric will be a hit and more easily command that higher price.
"It's not the same pair of pants that you bought last year that you get the 12 percent (price) increase," said Francisco Gonzalez-Meza Hoffmann, vice president of strategic initiatives at Perry Ellis International Inc .
Instead, he said, "It's more the new, special shirt."
INFLATION TO STICK AROUND
Retailers and manufacturers are finding that what previously worked to keep prices low is no longer working.
China, a former safe haven for retailers seeking cheap labor and manufacturing, is facing rising labor and energy costs, which are driving up the price of Chinese-made goods.
"We're at the end of that sourcing curve and I don't know what the next low-cost provider country is going to be," said Paul Rosengard, group president of Perry Ellis International's premium brands.
Meanwhile, skyrocketing energy prices are hitting companies on multiple fronts. It costs more to keep factories running, from turning on the lights to powering machines. With diesel prices surging, the cost of trucking goods from a distribution center to a store is also up, while surging fuel prices have made air freight a more expensive proposition.
"Nothing comes to mind that doesn't have inflationary pressure right now across the economy. That includes diapers," said Toys R Us Chief Executive Jerry Storch.
Companies have tried to combat these increased expenses with cost cuts, but many said they have hit the wall, and internal moves are not enough to offset climbing costs.
"Oil hit $140 a barrel today, which is just breathtaking," Isaac Larian, CEO of MGA Entertainment, known for its Bratz fashion dolls, said at the summit on Monday. "The cost of commodities, of labor, is going up and as a result the price of product inflation is going up. Those prices are going to be passed down to the consumer."
Jones Apparel Group Inc CEO Wesley Card said inflationary pressures are more severe in footwear than apparel because 90 percent to 95 percent of footwear sold in the United States comes from China, and those factories, which require very specific equipment, are hard to move.
"I think next year we're going to start to see some low-single-digit price increases in footwear and accessories," said Card, whose company sells shoes under brands including Nine West, Easy Spirit and Bandolino. "I think it's unavoidable."
MASKING HIGHER PRICES
Companies are looking for subtle ways to increase prices.
"We're going to look to raise prices by raising value and quality," said Perry Ellis' Rosengard. "We're bringing new product to the customer with new performance, fabrications and details and giving them a reason to command the higher price."
The CEO-designate of Lululemon Athletica Inc said its "technical" clothes and attention to detail are a reason the retailer can charge prices for its yoga wear that are often 20 percent above competitors' prices.
Christine Day said Lululemon's clothes are made from proprietary fabric and have features like "flat seaming," which eliminates possible chafing from raised seams.
"People do know that they're getting more value for their money, more wear," she said.
Having the good fortune to produce the next hot brand is another sure-fire way to charge higher prices, said Perry Ellis' Gonzalez-Meza Hoffmann.
"The right brand can always help you overcome the price increases. The consumer will be much more willing to receive those price increases," he said.
But consumers are no longer as willing, or even able, to fill up their closets or their homes with all of the hottest new products or brands.
"There's no question when I'm standing at the cash register, the customer who used to come up and just buy everything will stand there and make a choice between two or three things," Lululemon's Day said.
(See here for SHOP TALK -- Reuters' retail and consumer blog)
(Reporting by Nicole Maestri; editing by John Wallace)
© Thomson Reuters 2023 All rights reserved.