Crocs taps former Reebok exec as new chief
CHICAGO (Reuters) - Shoe company Crocs (CROX.O) on Wednesday named a former top Reebok(ADSG.DE) executive as its new chief, replacing a retiring Ron Snyder.
John Duerden takes over as president and chief executive at Crocs on March 16, joining the company from the Chrysallis Group, a consulting group he formed in 2006 that is focused on the development and renewal of brands.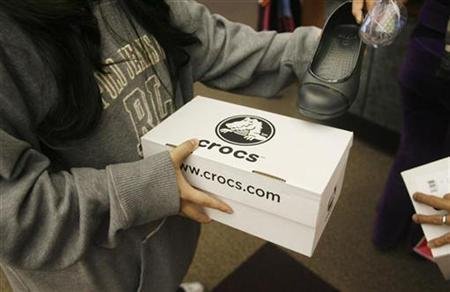 "Crocs has experienced phenomenal growth", he said in a statement. "The combination of new technology, innovative manufacturing techniques and compelling designs has created an original and iconic brand."
Last week, Crocs posted a steep quarterly loss -- that was not as large as analysts had expected -- as sales fell sharply and the company was hit by adverse currency movements.
Crocs' brightly coloured resin shoes propelled it into the limelight midway through the decade, but sales in the United States and globally have since fallen off due to their waning popularity and the recession.
The company has been trying to trim costs and write down inventory since its early explosive growth resulted in an infrastructure now out of whack with current sales. It has laid off workers, closed factories and consolidated distribution centres and warehouses, shuttered smaller business units and postponed apparel initiatives.
Duerden has more than 20 years of senior level management experience across a variety of industries, including 13 years as president or CEO.
From 1990 to 1995, he served as president and chief operating officer of Reebok International, according to Crocs. During that time, Reebok's worldwide sales tripled to $3 billion (2 billion pounds). Prior to that, he spent 18 months as managing director of Reebok's international operations.
"John brings a long track record of success in growing companies and brands in a number of different regions," Snyder said. "His broad experience is a perfect fit for our global footprint."
Duerden began his career with Xerox (XRX.N) and its UK joint venture, Rank Xerox, where he held line and staff management positions in Europe, the United States, Latin America and Asia Pacific. He later served as chairman and CEO of Dictaphone Corp, a maker of voice management hardware and software and subsequently as COO of the development division of Invensys (ISYS.L), a British engineering conglomerate.
Snyder will continue as a board member at Niwot, Colorado-based Crocs and will assist Duerden's transition for the next two to four months, or longer if needed, the company said.
(Reporting by Ben Klayman)
© Thomson Reuters 2022 All rights reserved.