Lululemon sees gross margin slightly up
By Aarthi Sivaraman
NEW YORK (Reuters) - Lululemon Athletica Inc , the high-end yoga wear retailer, expects overall gross margin to show slight improvement this year, its chief financial officer said on Tuesday.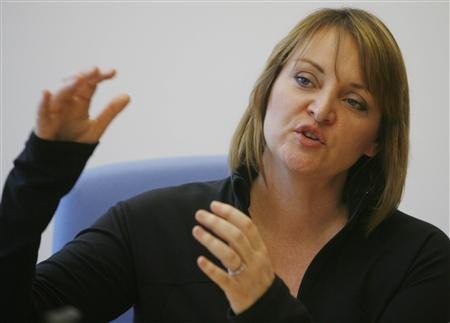 "We even expect to see slight improvement on that this year," CFO John Currie said on a conference call at the Reuters Consumer and Retail Summit, referring to Lululemon's gross margin, which is at 53 percent.
"Inflationary pressure is being offset by our increasing volumes. Our merchandise markups are staying fairly constant ... and because we are in a better inventory position than we were last year, we don't expect to incur the same air freight and other additional costs," he added.
Lululemon is known for its trendy clothing, sold through its own stores, and yoga or workout studios in the United States and Canada.
Though it plans to expand -- 35 new stores in North America this year -- Lululemon will not consider licensing its brand to higher-end retailers like Saks Inc , CEO-designate, Christine Day, said at the summit.
"Number one, you start designing for their target customer ... the second thing that happens is if they are not doing well, then they are going to put your product on sale ... ," said Day, who was wearing the company's clothing.
CRYSTAL BALL?
Day, who takes over as the CEO at the end of June, said there was no sure-fire way to tell how high gasoline and food prices would affect Lululemon's expansion plans as it heads into the critical holiday selling season.
"I think it would be arrogant to say we won't be affected by that," Day said.
Day emphasized the importance of online sales in an environment where soaring gas prices have forced consumers to rethink the way they shop.
"Consumers are just more savvy." she said. "I think it's an economic reality. I think that's why it is important that we play in that space."
Though it was looking at expanding its retail reach overseas, such as in Europe, its biggest opportunities currently were in the United States and via e-commerce, Day said.
Lululemon cut its profit outlook earlier this month, citing costs related to hiring staff and strategic plans to expand its business.
Previously, it expected a full-year profit of 70 cents to 72 cents a share, but cut the view to a range of 68 cents to 71 cents when it reported that its quarterly profit more than doubled.
Pointing to its revised outlook, CFO Currie said "that hasn't changed."
Lululemon shares fell 3 percent to $27.60 on Nasdaq.
(For summit blog: summitnotebook.reuters.com/)
(See here for SHOP TALK -- Reuters' retail and consumer blog)
(Reporting by Aarthi Sivaraman, editing by Phil Berlowitz/Jeffrey Benkoe)
© Thomson Reuters 2023 All rights reserved.